I believe that design experiences enrich students from all disciplines, from biology to the humanities, because the design process requires that we engage in critical thinking about technology and its influence on the society that shapes us.
Projects
EE40LX: Analog circuits MOOC for all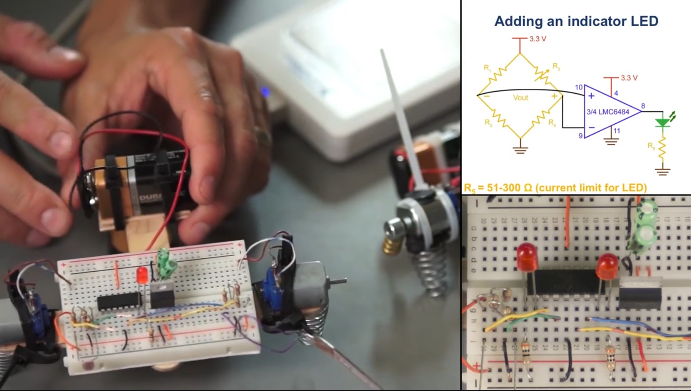 With Prof. Michel Maharbiz, I co-taught EE40LX, a lab-based massive open online course (MOOC) about analog electronics which ran from 2015-2016. The purpose of this course was to introduce the fundamentals of electronics to a broad global audience. By following along with the course, students built a simple robot from scratch using a microcontroller and common electronics parts and houshold items. Over 80000 students enrolled from over 190 nations, and >2200 students completed the course, with >850 robots built.
Experience
| Date | Course | Role | Location |
| --- | --- | --- | --- |
| Spring 2017 | EE198/298: Hands-on Ham Radio | Acting Instructor | UC Berkeley |
| Fall 2016 | EE98/198/298: Hands-on Ham Radio | Acting Instructor | UC Berkeley |
| Summer 2016 | PREP Physics: Introduction to Mechanics | Instructor | UC Berkeley |
| Spring 2016 | Applied Electrical I | Teaching and Curriculum Consultant | Northern Technical College, Zambia |
| Summer 2015 | PREP Physics: Introduction to Mechanics | Instructor | UC Berkeley |
| Summer 2015 | EE40LX: Electronic Interfaces - Self-Paced | Co-instructor and MOOC Developer | BerkeleyX |
| Spring 2015 | EE40LX: Electronic Interfaces | Co-instructor and MOOC Developer | BerkeleyX |
| Fall 2014 | EE40: Introduction to Microelectronic Circuits | Head Lab GSI | UC Berkeley |
| Summer 2014 | PREP Physics: Introduction to Mechanics | Instructor | UC Berkeley |
| Summer 2013 | PREP Physics: Introduction to Mechanics | Instructor | UC Berkeley |
| Spring 2012 | ENG193: Engineering Fundamentals - Design | Undergraduate TA | Ohio State |
| Winter 2012 | ENG192: Engineering Fundamentals - Programming, Advanced Section | Undergraduate TA | Ohio State |
| Fall 2011 | ECE301: Design and Analysis in Circuits | Grader | Ohio State |
| Winter 2011 | ENG192: Engineering Fundamentals - Programming | Undergraduate TA | Ohio State |
| Fall 2010 | ENG191: Engineering Fundamentals - CAD | Undergraduate TA | Ohio State |
| Spring 2010 | ENG193: Engineering Fundamentals - Design | Undergraduate TA | Ohio State |
| Winter 2010 | ENG192: Engineering Fundamentals - Programming | Undergraduate TA | Ohio State |
| Fall 2009 | ENG191: Engineering Fundamentals - CAD | Undergraduate TA | Ohio State |